SUMMARY
COVID-19 public health policy has focused mainly on the SARS-CoV-2 virus and its effects while environmental factors in the disease have been largely ignored. However, public health measures have been unable to stop the pandemic. Here we consider the role of an environmental factor in COVID-19: ambient radiofrequency radiation from wireless communication systems including microwaves and millimeter waves (RFR). Recently we examined over 250 peer reviewed scientific reports on adverse bioeffects of RFR, with respect to how these detrimental health effects may contribute to the COVID-19 disease progression. We concluded that RFR and, in particular, 5G (5th generation of wireless telecommunication radiation), has exacerbated both the prevalence and severity of COVID-19 by weakening host immunity and increasing SARS-CoV-2 virulence. In short, we gathered evidence from the literature that RFR is a main contributing environmental factor in COVID-19 and the pandemic.
Moreover, the public health problem goes well beyond COVID-19. There is clear evidence of numerous adverse effects of RFR exposure alone on human health from thousands of studies reported in the scientific literature. Despite all of these studies, there is a lack of safety testing of real-world exposures to RFR from both present 4G (4th generation of wireless telecommunication radiation) and proposed 5G. In addition, the 1996 US guidelines for RFR exposure are antiquated and do not account for the current condition of long-term public exposure from a myriad of transmitters.
To address these problems, we recommend the following: (1) An immediate moratorium on 5G wireless infrastructure at this crucial time to help mitigate COVID-19 and to protect public health; (2) Mandating use of wires and optical fiber to carry telecommunication signals instead of wireless radiation whenever possible; (3) A re-evaluation of the FCC (Federal Communication Commission) guidelines in light of contemporary long-term, real-world RFR exposure, toward establishing clear safety standards; (4) The formation of a national commission to advise the President on public health concerns about RFR exposure and to oversee new scientific research; (5) Governmental sponsorship of new research to test real-world RFR exposure, to determine the safest 5G configurations, and to enable clear safety standards to be set.
We conclude that RFR is eroding human health and that new public health policies are urgently needed. The present situation requires immediate action. We request the President to enact an Executive Order to achieve these aims in order to safeguard public health.
SCOPE OF THE PROBLEM
The COVID-19 phenomenon reportedly began in Wuhan, China in December 2019 and subsequently spread worldwide. On March 11, 2020, the World Health Organization declared the disease a viral "pandemic." Lives have been drastically affected globally, with devastating socio-economic impacts on business, education, travel, relationships, and daily life. Billions of people have endured lockdowns, quarantines, isolation, facial masking requirements, social distancing, and other public health measures. However, the COVID-19 pandemic continues unabated.
According to the Center for Disease Control and Prevention (CDC, 2020), the simplest model of disease causation is the epidemiological triad consisting of three interactive factors: the agent (pathogen), the health status of the host, and the environment. While the focus has been on a purported virus and the health status of the host, little attention has been paid to the environment and its role in COVID-19. Here we consider the environmental factor of wireless telecommunication radiation in particular.
Earth's electromagnetic environment is changing with the rapid expansion of wireless infrastructure on the ground and in our atmosphere. Because 5G (the fifth generation of wireless infrastructure) is currently under construction in many locations, it is crucial to consider its health impact before it is massively deployed worldwide. Planned to date are millions of new 5G antennas, the densification of 4G antennas, and 100,000 radiating satellites that would blanket the earth with microwaves, trillions of times above the natural background. Thus, 5G networks would expose the public to radiofrequency radiation at an unprecedented scale. With the planned "internet of things," the entire global environment of our planet will be drastically changed. Long-term effects on humans and the biosphere are unknown.
We examined the relationship between COVID-19 and the health effects from exposure to radiofrequency radiation including 5G wireless radiation, henceforth called "RFR". Based on the results from numerous studies published in the scientific literature, we identified ways in which RFR is contributing to COVID-19 as a toxic environmental cofactor by: (1) weakening host immunity, rendering people more susceptible to COVID-19; and (2) exacerbating COVID-19 severity. We conclude that RFR is a main contributing factor in COVID-19.
Historically RFR has been shown to produce numerous detrimental health effects since the late 1960s in many thousands of peer-reviewed study reports. Recent reviews have been published (Belpomme et al., 2018; Di Ciaula, 2018; Russell, 2018; Miller et al., 2019). A comprehensive review on the bioeffects of millimeter waves (5G) indicates that even short-term exposures produce marked bioeffects (Pakhomov et al., 1998). Because of these alarming findings, we strongly recommend a moratorium on the deployment of 5G infrastructure at this critical juncture.
The US guidelines for RFR exposure must be updated to account for long-term exposures with an increasing number of frequency bands emitted by a multitude of devices and wireless networks of 3G, 4G, and 5G (generations of wireless radiation). (See Appendix 1.) The health effects of real-world RFR exposure from technology with digital pulsed modulation also needs to be studied as bioeffects from exposure to combinations of wireless signals are unknown.
A companion scientific review paper authored by us, "Evidence for a Connection between COVID-19 and Exposure to Radiofrequency Radiation from Wireless Telecommunications Including Microwaves and Millimeter Waves," is available on a pre-print server on the internet while we await publication (Rubik and Brown, 2021). A summary of our analysis and recommendations are as follows.
RFR EXPOSURE IN RELATION TO COVID-19
The COVID-19 phenomenon began in Wuhan, China in December 2019, only weeks after city-wide wireless 5G had "gone live" on October 31, 2019.
Subsequently COVID-19 spread to other locales where wireless 5G had been at least partially implemented, including South Korea, Northern Italy, New York City, Seattle, Silicon Valley, and Southern California.
An April 2020 Spanish study investigating the association between the density of 5G antennas and COVID-19 manifestations in specific regions throughout the world reported a statistically significant correlation (Payeras and Cifre, 2020).
COVID-19 attributed case and death rates in the US were significantly higher in states and counties with 5G deployment compared with other regions without 5G (Tsiang and Havas, manuscript submitted).
We examined over 250 peer-reviewed studies on the bioeffects of RFR exposure and found several pathways in which these effects intersect with the COVID-19 disease process (Rubik and Brown, 2021). In summary, RFR exposure:
Causes changes in blood cells that may contribute to hypercoagulation (Rubik, 2014);

Impairs the microcirculation and reduces red blood cell and hemoglobin levels, which exacerbate hypoxia;

Amplifies immune system dysfunction, including immunosuppression, autoimmunity, and hyperinflammation;

Increases oxidative stress, which exacerbates injury of blood vessels and organs and is contributing to stroke and organ failure;

Elevates calcium levels within cells, which promote viral entry into the cell, viral replication, and release;

Worsening heart arrhythmias and other cardiac disorders.
In 2020, exposure to RFR has significantly increased due to stay-at-home public health policy measures as people conduct their work and school related activities more than usual via wireless communication (Rubik and Brown, 2021).
Hospital inpatients, particularly ICU patients, have increased exposure from wireless monitoring systems that may exacerbate COVID-19 and other health disorders. In addition, telemedicine, if received on a wireless device, increases RFR exposure (Rubik and Brown, 2021).
Thus far, public health measures addressing the virus and the health status of the host have been unable to stop the spread of COVID-19.
RFR EXPOSURE AS RELATED TO PUBLIC HEALTH IN GENERAL
1. Numerous Adverse Effects on Health
RFR is a widespread, yet often neglected, environmental stressor that causes a range of detrimental health effects. Adverse effects from low-level RFR exposure as reported in thousands of peer-reviewed world scientific publications include: (1) neurological disorders (Pall, 2016); (2) learning and memory deficits ((Zhang et al., 2017); (3) changes to the reproductive system (Asghari et al., 2016); (4) endocrine dysregulation (Sangun et al., 2016); (5) DNA damage (Ruediger, 2009); and (6) increased risk of cancer (Bortkiewicz et al., 2017). For decades, independent scientists have emphasized the health risks and cumulative damage caused by wireless radiation (Sage and Carpenter, 2012; Russell, 2018). Despite the overwhelming scientific documentation amassed over decades, public health policy has not been updated to reflect these health risks. We identified 11 organizations and initiatives of numerous scientific and medical experts that were established to protect public health by urgently recommending appropriate changes in public policy (See Appendix 2).
2. Antiquated Guidelines for RFR Exposure
In 1996, the FCC set RFR exposure guidelines that were 10 to 100 times greater than those in other countries, including Russia, Switzerland, Austria, Italy, India, and China, among others (Madjar, 2016). The FCC guidelines were created with short-term exposures in mind, but due to the wide proliferation of wireless technology since 1996, exposures to RFR have become long-term and often incessant. With 5G and its proposed "Internet of Things," RFR exposure will become ubiquitous. Thus, current exposure limits set in 1996 are antiquated and do not protect the public from the adverse effects of increasing low-level, long-term RFR exposure. Moreover, the Telecommunications Act of 1996 blocks local governments from jurisdiction over health issues concerning RFR exposure as long as telecom installations and devices comply with FCC guidelines (See Appendix 3), which are not safety standards.
3. Lack of Adequate Testing of Real-World Exposures
Although there are thousands of studies on the effects of RFR exposure over several decades, most of them address the bioeffects of signals that do not reflect our contemporary real-world exposure (Rubik and Brown, 2021; Russell, 2018) due to a proliferation of wireless devices. The combination of digital pulse modulation in real-world communication signals as well as the contribution from multiple radiation sources, transmitting on multiple frequency bands in our present environment have never been safety tested (Miller et al., 2019).
RECOMMENDATIONS
At this crucial time, RFR exposure including 5G must be considered a main contributing factor in COVID-19. By taking immediate action now through government directives and responsive policies, the detrimental effect of this environmental factor can be alleviated.
We urge policymakers to enact an immediate worldwide moratorium on wireless 5G infrastructure deployment and operations. Because this infrastructure is currently being deployed, it is critical to act immediately. Therefore we recommend that the President of the United States enact an Executive Order to expedite the moratorium.
Damage from RFR exposure is cumulative, and reducing exposure can improve health. Mandate the use of wires and optical fiber to carry communication signals whenever possible. This includes using analog rather than digital technology, fiber optics to the premises, and fiber optics to devices as well as landline telephones.
No member of the FCC is an expert on health or on the biological effects of wireless radiation, yet the FCC is making important decisions that impact national health, such as setting exposure guidelines. Exposure safety standards need to be set based on current and future research that take into account digital pulsed modulations and long-term low-level exposures from multiple sources.
We recommend the formation of a new national commission with an advisory board comprised of independent scientific and medical experts, not associated with the telecommunication industry or its subsidiaries, to advise the President of the United States about health concerns regarding wireless telecommunication radiation. This commission would also review research proposals and administer funding for particular health-related research projects on RFR exposure, as guided by the advisory board.
Further research is needed to test real-world RFR exposures of digital pulse-modulated wireless devices. Funding should be provided by the telecommunications industry and administered by the federal government, managed by the new national commission described above. Federally funded research must be conducted by independent, impartial investigators not associated with the telecommunication industry. Essential studies will be completed to enable clear safety standards to be set for real-world exposures.
CONCLUSIONS
RFR including wireless 5G exposure is a contributing factor in COVID-19 that weakens the host immune system and exacerbates the disease.
RFR exposure causes cumulative biological damage and is eroding human health. Further studies are needed to learn more about the potential adverse effects of real-world signals from wireless technology over the long-term, and to set clear safety standards to protect public health.
We urgently recommend an immediate moratorium on the installation of wireless 5G infrastructure in order to mitigate the COVID-19 pandemic and protect public health. The President of the United States could enact an Executive Order to this effect. Additional recommendations are: to utilize wires and optical fiber rather than wireless installations whenever possible; to create clear safety standards of RFR exposure; to form a new national commission to oversee health-related aspects of RFR exposure; and to fund new research on real-world RFR exposure.
REFERENCES
Asghari, A., A.A. Khaki, A. Rajabzadeh, and A. Khaki. 2016. A review on Electromagnetic fields (EMFs) and the reproductive system. Electronic Physician, 8 (7): 2655-2662. DOI:10.19082/2655.
Belpomme, D., L. Hardell, I. Belyaev, E. Burgio, D.O. Carpenter. 2018. Thermal and non-thermal health effects of low intensity non-ionizing radiation: an international perspective (review). Environmental Pollution 242: 643-658. DOI: 10.1016/j.envpol.2018.07.019
Bortkiewicz, A., E. Gadzicka and W. Szymczak. 2017. Mobile phone use and risk for intracranial tumors and salivary gland tumors - A meta-analysis. International Journal of Occupational Medicine and Environmental Health, 30: 27-43. DOI: 10.13075/ijomeh.1896.00802
Center for Disease Control and Prevention (CDC). 2020. Epidemiological triad. Retrieved Sept 22, 2020 https://www.cdc.gov/csels/dsepd/ss1978/lesson1/section8.html
Center for Disease Control and Prevention: https://www.fcc.gov/general/telecommunications-act-1996
Di Ciaula, A. 2018. Towards 5G communication systensL are there health implications? International Journal of Hygiene and Environmental Health, 221: 367-375. DOI: 10.1016/j.ijheh.2018.01.011
Havas, M. 2013. Radiation from wireless technology affects the blood, heart, and the autonomic nervous system. Rev Environ Health 28 (2-3), 75-84. DOI: 10.1515/reveh-2013-0004
Madjar, H.M. 2016. Human radio frequency exposure limits: An update of reference levels in Europe, USA, Canada, China, Japan and Korea," 2016 International Symposium on Electromagnetic Compatibility - EMC EUROPE, Wroclaw, 2016, pp. 467-473, DOI: 10.1109/EMCEurope.2016.7739164.
Miller, A.B., M. E. Sears, L.L. Morgan, D.L. Davis, L. Hardell, M. Oremus, C.L. Soskolne. 2019. Risks to health and well-being from radio-frequency radiation emitted by cell phones and other wireless devices. Frontiers in Public Health, 7: 223. DOI:10.3389/fpubh.2019.00223
National Emergencies Act of 1976: https://www.congress.gov/bill/94th-congress/house-bill/3884
National Environmental Policy Act of 1969: https://www.epa.gov/laws-regulations/summary-national-environmental-policy-act
Pakhomov, A.G., Y. Akyel, O.N. Pakhomova, B.E. Stuck and M.R. Murphy. 1998. Review article: current state and implications of research on the biological effects of millimeter waves. Bioelectromagnetics, 19: 393-413. DOI:10.1002/(SICI)1521-186X(1998)19:7<393::AID-BEM1>3.0.CO;2-X
Pall, M.L. 2016. Microwave frequency electromagnetic fields (EMFs) produce widespread neuropsychiatric effects including depression. Journal of Chemical Neuroanatomy, 75 (Pt B): 43-51. DOI: 10.1016/j.jchemneu.2015.08.001.
Payeras, I. and B. Cifre. 2020. Estudio de la correlación entre casos de coronavirus y la presencia de redes 5G. (Study on the correlation between coronavirus cases and the presence of 5G antennas.) Published online. Retrieved Sept 27, 2020. http://www.tomeulamo.com/fitxers/264_CORONA-5G-H.pdf
Rubik, B. 2014. Does short-term exposure to cell phone radiation affect the blood? Wise Traditions in Food, Farming, and the Healing Arts, 15(4), pp 19-28. https://www.westonaprice.org/health-topics/does-short-term-exposure-to-cell-phone-radiation-affect-the-blood/
Rubik, B., R.R. Brown. 2021. Evidence for a connection between COVID-19 and exposure to radiofrequency radiation from wireless telecommunications including microwaves and millimeter waves. https://doi.org/10.31219/osf.io/9p8qu

Russell, C.L. 2018. 5G wireless telecommunications expansion: public health and environmental implications. Environmental Research, 165: 484-495. DOI: 10.1016/j.envres.2018.01.016
Sage, C, D.O. Carpenter. 2012. BioInitiative Working Group, BioInitiative Report: A Rationale for a Biologically-based Public Exposure Standard for Electromagnetic Radiation. Updated 2014-2020. www.bioinitiative.org
Sangün, Ö., B. Dündar, S. Çömlekçi and A. Büyükgebiz. 2016. The effects of electromagnetic field on the endocrine system in children and adolescents. Pediatric Endocrinology Reviews, 13: 531-545. DOI: 10.1542/peds.2004-2541.
Telecommunications Act of 1996: https://www.fcc.gov/general/telecommunications-act-1996
Tsiang, A., and M. Havas. 2021. (manuscript submitted). COVID-19 attributed cases and deaths are statistically higher in states and counties with 5th generation millimeter wave wireless telecommunications in the US.
Zhang, J., A. Sumich and G.Y. Wang. 2017. Acute effects of radiofrequency electromagnetic field emitted by mobile phone on brain function. Bioelectromagnetics, 38: 329-338. DOI: 10.1002/bem.22052.
APPENDICES
1. Electromagnetic Spectrum of Radiofrequency Wireless Telecommunications Radiation
This table shows the increasing number of bands and spectrum of frequencies associated with each generation of wireless telecommunication radiation.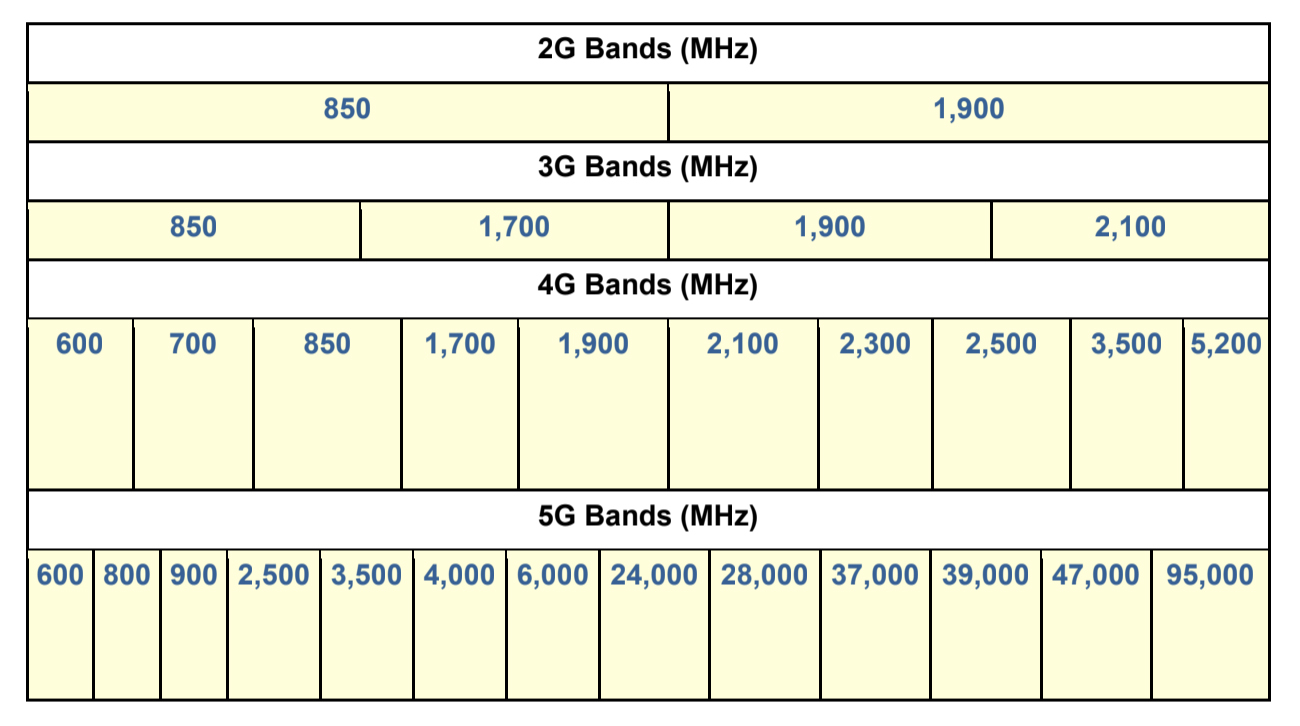 2. LIST OF SCIENTIFIC AND MEDICAL ORGANIZATIONS AND INITIATIVES
A growing number of experts, national and international, have united to inform policymakers and the public of the health risks of wireless telecommunications radiation. Most of them recommend a moratorium on 5G at this time. Here is a list of 11 such organizations, arranged in no particular order.
EMF Scientist.org
An organization promoting an international appeal which as of November 29, 2020 has been signed by 254 EMF (electromagnetic field) scientists from 44 nations and 15 supporting scientists from 11 nations. The appeal is for policy makers and governmental regulatory agencies to provide greater protection to the general population from EMF exposure, which these scientists understand to be a rapidly progressing global public health crisis.
Physicians for Safe Technology
A physician organization that maintains that technology should be made available to society without it causing human physical, psychosocial or environmental damage. This group provides education and recommendations for health professionals, policymakers and the public focusing on how to avoid the detrimental health effects of technology and its overuse.
5G Appeal
This initiative was prepared in 2017 by scientists and doctors who are calling for the European Union to halt the 5G rollout due to the grave health concerns associated with the dramatic increase in radiofrequency radiation from wireless technology. As of December 14, 2020, 411 scientists and medical doctors have signed the appeal.
Phire – Physicians' Health Initiative for Radiation and Environment
An association of independent medical doctors and specialists united for the purpose of improving education on the health effects of non-ionizing radiation. This group generated the 2020 Consensus Statement of the UK and established the International Medical and Scientific Experts on Health Effects of Radiofrequency Radiation working group. Their statement reflects a consensus on the acute and chronic health effects resulting from radiofrequency radiation and recommends an immediate moratorium on 5G, wireless smart metering and any other new RF emissions, among others.
American Academy of Environmental Medicine
A group whose mission is to promote optimal health through the prevention and safe and effective treatment of illness caused by environmental contaminants. This group has seen a dramatic increase in the number of patients reporting symptoms associated with electromagnetic sensitivity and diseases related to electromagnetic field exposure over the past 5 years.
International Appeal Stop 5G on Earth and in Space
This is an international appeal signed by scientists, doctors, nurses, environmental organizations, dentists, psychologists, veterinarians, other health professionals and citizens calling for a halt to the 5G deployment, both on earth and in space. As of January 3, 2021, 303,732 people and organizations from 214 nations and territories have signed the appeal.
Environmental Health Trust
A think-tank and non-profit organization whose website provides comprehensive information from current research on the health hazards associated with electromagnetic radiation and 5G, which aims to serve citizens, policymakers, scientists, and health care professionals.
EM Radiation Research Trust
An independent body providing facts about the dangers of electromagnetic radiation to the public and the media.
International EMF alliance (IEMFA)
An international alliance of scientific experts, including physicists, epidemiologists, and physicians who provide multifaceted insight into the many observed damaging biological effects caused by exposure to non-ionizing radiation.
International Guidelines on Non-Ionizing Radiation (IGNIR)
An international organization offering scientific advice on how to avoid the damaging health and environmental effects from non-ionizing radiation. In 2016 this group set up guidelines for electromagnetic exposure based on peer-reviewed scientific literature.
Oceania Radiofrequency Scientific Advisory Association (ORSAA)
A non-profit organization of scientists and professionals investigating the detrimental effects of artificial sources of electromagnetic radiation on humans, animals and the environment. They provide an independent perspective on the science and help health care providers, safety officers and policymakers regarding EMR exposure.
3. SOME RELEVANT US LAWS AND FEDERAL AGENCIES
The National Environment Policy Act (NEPA) of 1969 "is to assure that all branches of government give proper consideration to the environment prior to undertaking any major federal action that significantly affects the environment." This law calls for an environmental assessment of a proposed large-scale environmental alteration such as wireless 5G infrastructure and satellites. However, no such assessment has been made.
A provision of the Telecommunications Act of 1996 disallows using radiation-related health concerns as a reason to challenge cell phone tower siting, if the proposed facilities comply with the FCC (Federal Communications Commission) regulations. This law hinders state, county, and municipal policymakers from taking action against wireless installations based on health or environmental concerns.
The National Emergencies Act of 1976 empowers the President to suspend laws and to activate emergency provisions of law. On March 13, 2020, President Trump declared a National Emergency due to COVID-19.
The Federal Communications Commission (FCC) is the federal agency that regulates RFR exposure limits. The guidelines set by the FCC were established in 1996 in consideration of only thermal (heating) effects and disregards all non-thermal effects from RFR associated with pulsed digital signaling. However, other countries, including Russia, China, Austria, Switzerland, among others, have set guidelines from 10 to 100 times lower than the FCC, in consideration of the non-thermal adverse biological effects of RFR.
Powered by Froala Editor